Minsk street-art project The Future will come to life via augmented reality
Creation of a street art project The Future at ulitsa Prititskogo in Minsk is finished. The finishing touches to the central fragment of the triptych were done by it's author Spanish artist Slim (Slim Safont) in early December.
Besides, organizers declare a virtual continuation of the project. One of the murals named The Digital Light picturing a symbolic image of a Slavic Goddess with a spindle in her hands and an abundance of constellations over her head will come to life via augmented reality technology (AR). Interaction with an interactive mural will be available via a smartphone and an app that will be presented very soon.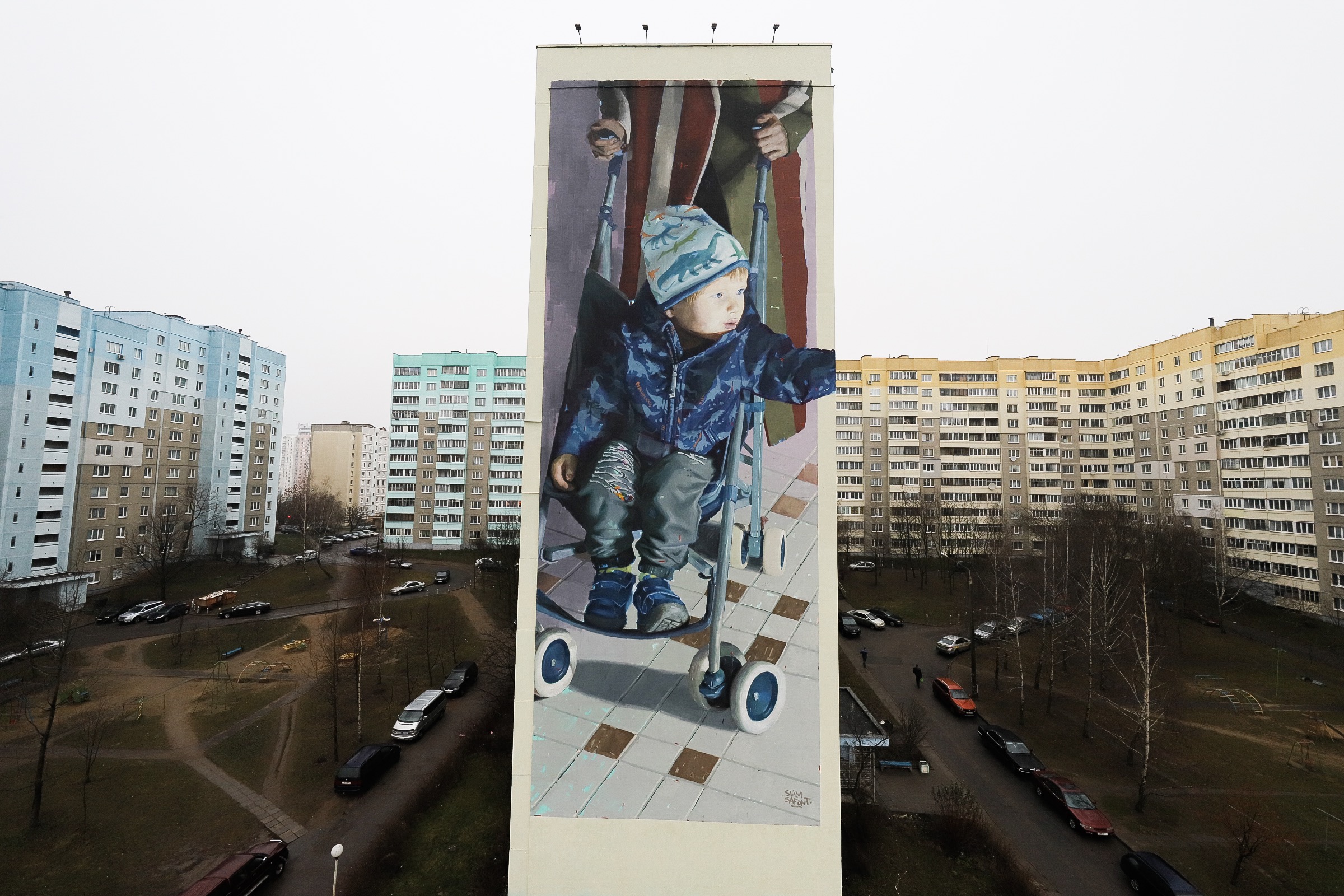 The first two works of the tryptich The Future named A Freelance (by Artes, Serbia) and The Digital Light (by Mutus, Belarus) were finished at late October. At that time there was the third mural's concept presented under the name The Hero of the Modern Age.
The author of the third work Slim describes his creative solution as the following: "Children are the main characters of the future but they can realize their potential only with support of their family. A progress into the future is not possible without a stong bond between generations". Participation in Minsk project for Slim was "the most complicated and interesting phase" in his professional career.
The project is organized by Administration of Frunzensky rayon in Minsk, street art activists Urban Myths and A1.
"We were happy to observe the development of the project and the way it gets vibrant – thanks to the dialogue with the local residents, exchange of ideas between organizers and the authors of creative solutions. Together with our partners we managed to unite people via art and common values", - commented head of A1's PR Nikolay Bredelev.
The Future has already gained a high appreciation within international street-art community. Creative concept of residential districts beautification and renewal was supported by Minsk dwellers. A survey organized by BSU showed representatives of different generations sharing the same view on it.