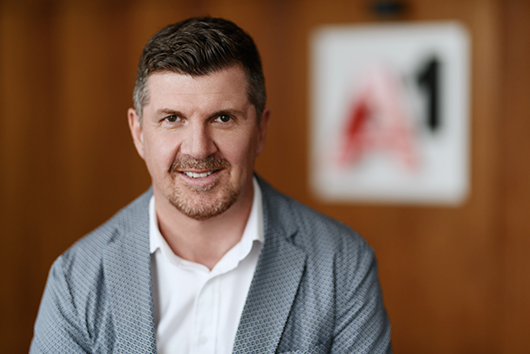 Helmut Duhs
CEO
Helmut Duhs was born in Klagenfurt, Austria in 1971. In 1990 he got a degree of Engineer of Communications Technology and in 1993 he graduated from University of Vienna with a Degree in Business Administration and Computer Science. In 2002 he completed post-graduate study at the Danube University with a Diploma of Executive MBA.
He started his professional career in 1992 as a consultant for development and implementation of financial software. Since 1996 he has been working for Telekom Austria Group on different managerial positions in the financial sector. In 2004 he was appointed to the position of Chief Executive Officer of mobilkom austria group services GmbH and also a member of mobilkom austria group Executive Board. Since 2007 Helmut Duhs has been successfully managing the Belarusian Segment of Telekom Austria Group being recognized both on the local and international levels.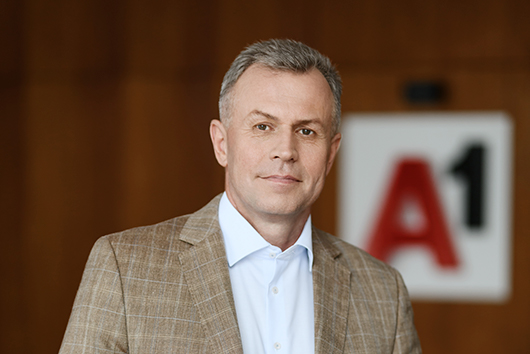 Nikolay Yushkevich
First Deputy General Director
Nikolay Yushkevich was born in Korolev Stan village, Minsk district, in 1964. He graduated from Leningrad Electro-Technical Institute of Telecommunications named after Bonch-Bruevich as a telecommunications engineer. He also served in the navy.
He started his career in 1987 as a telecommunications electrician in Minskobltelecom. From 1998 till 1999 he worked as an assistant to Telco Minister of Belarus. Nikolay joined A1 (at that time - Mobile digital communications) in April 1999 as General Director. From 2001 till 2005 he occupied different executive positions and left the company in 2005 from the position of First Deputy General Director. From 2006 till 2011 Nikolay worked as CTO of Belarusian Telecommunications Network (BeST). In December 2012 he returned to A1 to take over the position of First Deputy General Director.
Irina Savina
Senior Director for Consumer Business
Irina was born in 1966 in Minsk. She graduated from the Belarussian State Science-Technical University with Bachelor's Degree in Information Systems and Robotics in 1988. She also graduated from the Belarussian State Economical University, Accounting, Analysis and Audit Department, with Bachelor's Degree in Economics in 1999. From 1994 to 2002 she took the position of a Chief Operations Officer at AVIS Rent A Car. In 2002 she became a Head of Corporate Sales and Financial Control Department at MTS company. From 2005 to 2007 she was appointed as a Head of Marketing Department at elite alcohol distributer, afterwards she was a Head of Marketing Department at P&G Official Distributor. Starting from May 2009 to 2012 she was a Head of Residential Sales Division at A1.
Then she took a position of Chief Marketing Officer at Prestigio EMEA, ASBIS Group (2012-2013), Chief Commercial Officer at ALTEL JSC (2013 – 2016), Consumer Market Development Director at Kcell JSC, TELIA Group. In 2018 she continued her career as a General Director of Apple Premium Reseller Network in CIS. In November 2018 she was appointed as a Senior Director for Consumer Business at A1.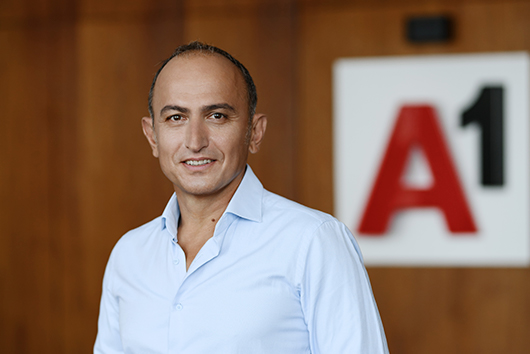 Robert Dashian
Senior Director for Enterprise and ICT
Robert_Dashian was born in Yerevan, Armenia, in 1965. In 1990 he graduated from the Yerevan State University, and then completed postgraduate studies in the Belarusian State University. He graduated from Amherst College, Amherst, MA, USA and participated in the executive education programs in Marketing and Strategy at Kellogg School of Management, The University of Chicago School of Business, and The Wharton School of the University of Pennsylvania and International Institute for Management Development (IMD), Switzerland.
Robert has over 20-year year experience in the Belarusian telecommunication area. From 1995 to 2001 he worked as Chief Financial Officer of Mobilkom. Since 2001 he started to work in A1 Unitary Enterprise as Deputy CMO, afterwards as Senior Director for Marketing, Sales and Customer Care. In September 2018 he was appointed as Senior Director for Enterprise and ICT dealing with services for business customers in mobile and fixed line, ICT services.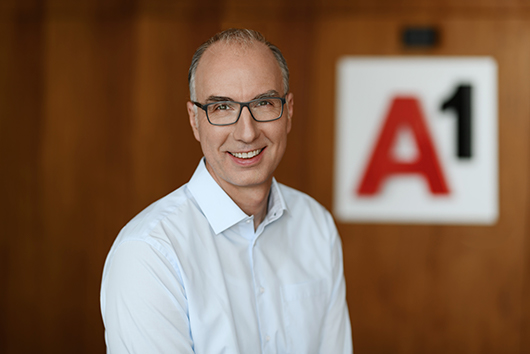 Johannes Kandera
Senior Director for Finance
Johannes Kandera was born in 1970 in Amstetten, Austria. After studies at University of Economics in Vienna, Johannes Kandera joined A1 Group in 1999 as Controller.
After filling several positions in the controlling organization, in 2006 he joined the startup-team of Vip mobile Serbia as Controlling Director, building up the controlling department in the newly found company. In 2011 he returned back to Austria as Group Controlling Director, responsible for controlling standards within the entire group. Johannes joined A1 Hrvatska in August 2015 as a Member of the Board and Chief Financial Officer. In 2019 he continued his career at A1 Belarus as a Senior Director for Finance.
Christian Laqué
Senior Director for Technology
Christian was born in 1967 in Germany. He studied at the University of Karlsruhe (Germany). Christian has a broad background in senior positions across Europe, both in small and large telecom and multimedia service providers. He successfully contributed into developing of tele.ring company being its CTO from the very first days. He took part in the work group on the merge of tele.ring and T-Mobile, then took responsibility for Radio-, Transport- and Core Network of the joint operations. During four years Christian served as CTO of Austrian largest cable operator UPC, a part of Liberty Global holding. Since February 2015 he has been in charge of A1 technical sector.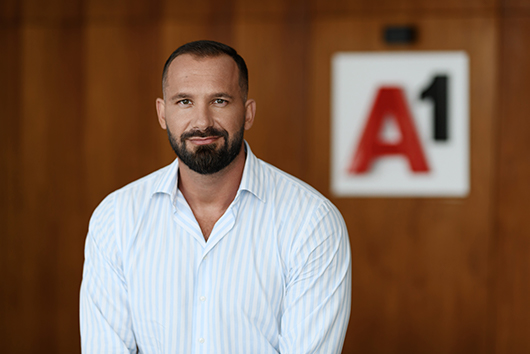 Anton Bladik
Senior Director for Digital Platforms and Content
Anton Bladik was born in 1980 in Baranovichi. In 2001 he graduated from the Belarusian State Economic University, School of International Economic Affairs, specializing in foreign economic activity management. In 2006 he received the MBA program second degree of the Institute of Business and Management of Technology of Belarusian State University.
He started his career in 1999 Materials as an economist in Foreign Relations department of the Minsk Research Institute of Radio. In 2005 he was transferred to the State Military Industrial Committee as Chief Economist in Economy and Finance department. Since 2008 Anton has been Commercial Director of TM Bulbash. Starting from 2012 he was appointed to the position of Deputy Director for Private Sector Affairs of FLLC ADN (TM Atlant Telecom), in 2014 – Deputy Director for Commercial Affairs. In 2016 he was included into the Board of Directors of A1 Unitary Enterprise as Senior Director for Fixed Line Businesses & Integration. Starting from November 2018 he took the position of Senior Director for Digital Platforms and Content.